Hostcount for Ukraine (Source: RIPE Region Hostcount)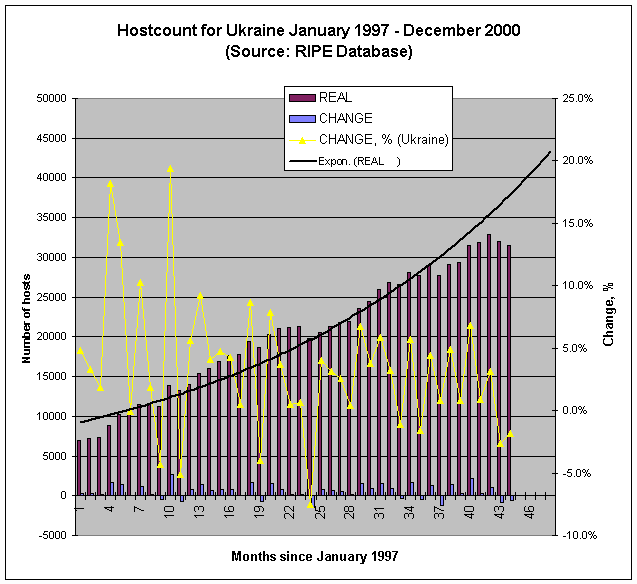 Hostcount Statistics data for Ukraine
for the period 1997-2000

| | | | | | | | |
| --- | --- | --- | --- | --- | --- | --- | --- |
| Period | SOA | COUNTED | DUPL | REAL | CHANGE | CHANGE, % (Ukraine) | Notes |
| January 1997 | 313 | 8509 | 1599 | 6910 | 333 | 4.8% | |
| February 1997 | 346 | 8583 | 1437 | 7146 | 236 | 3.3% | |
| March 1997 | 387 | 9665 | 2387 | 7278 | 132 | 1.8% | |
| April 1997 | 469 | 11734 | 2839 | 8895 | 1617 | 18.2% | |
| May 1997 | 487 | 13073 | 2793 | 10280 | 1385 | 13.5% | |
| June 1997 | 505 | 12849 | 2574 | 10275 | -5 | 0.0% | |
| July 1997 | 574 | 14955 | 3500 | 11455 | 1180 | 10.3% | |
| August 1997 | 576 | 14954 | 3279 | 11675 | 220 | 1.9% | |
| September 1997 | 584 | 14554 | 3359 | 11195 | -480 | -4.3% | |
| October 1997 | 712 | 18215 | 4328 | 13887 | 2692 | 19.4% | |
| November 1997 | 706 | 17805 | 4595 | 13210 | -677 | -5.1% | |
| December 1997 | 771 | 18738 | 4742 | 13996 | 786 | 5.6% | |
| January 1998 | 848 | 20533 | 5116 | 15417 | 1421 | 9.2% | |
| February 1998 | 896 | 21651 | 5576 | 16075 | 658 | 4.1% | |
| March 1998 | 995 | 22944 | 6070 | 16874 | 799 | 4.7% | |
| April 1998 | 1073 | 24694 | 7070 | 17624 | 750 | 4.3% | |
| May 1998 | 1139 | 25318 | 7600 | 17718 | 94 | 0.5% | |
| June 1998 | 1263 | 27141 | 7750 | 19391 | 1673 | 8.6% | |
| July 1998 | 1361 | 26661 | 8016 | 18645 | -746 | -4.0% | |
| August 1998 | 1486 | 28533 | 8290 | 20243 | 1598 | 7.9% | |
| September 1998 | 1577 | 29883 | 8863 | 21020 | 777 | 3.7% | |
| October 1998 | 1795 | 30316 | 9189 | 21127 | 107 | 0.5% | |
| November 1998 | 1922 | 30721 | 9456 | 21265 | 138 | 0.6% | |
| December 1998 | 2048 | 29880 | 10105 | 19775 | -1490 | -7.5% | |
| January 1999 | 2154 | 32039 | 11431 | 20608 | 833 | 4.0% | |
| February 1999 | 2296 | 32695 | 11426 | 21269 | 661 | 3.1% | |
| March 1999 | 2522 | 34338 | 12508 | 21830 | 561 | 2.6% | |
| April 1999 | 2731 | 34770 | 12841 | 21929 | 99 | 0.5% | |
| May 1999 | 2987 | 37294 | 13774 | 23520 | 1591 | 6.8% | |
| June 1999 | 3185 | 39386 | 14949 | 24437 | 917 | 3.8% | |
| July 1999 | 3401 | 41598 | 15638 | 25960 | 1523 | 5.9% | |
| August 1999 | 3580 | 43877 | 17048 | 26829 | 869 | 3.2% | |
| September 1999 | 3886 | 44361 | 17822 | 26539 | -290 | -1.1% | |
| October 1999 | 4,291 | 47,085 | 18,938 | 28,147 | 1,608 | 5.7% | |
| November 1999 | 4600 | 47129 | 19431 | 27698 | -449 | -1.6% | |
| December 1999 | 5096 | 50597 | 21624 | 28973 | 1275 | 4.4% | |
| January 2000 | 5551 | 50148 | 22418 | 27730 | -1243 | 0.8% | |
| February 2000 | 6271 | 54730 | 25567 | 29163 | 1433 | 4.9% | |
| March 2000 | 6947 | 58042 | 28633 | 29409 | 246 | 0.8% | |
| April 2000 | 8012 | 64506 | 32957 | 31549 | 2140 | 6.8% | |
| May 2000 | 9144 | 67618 | 35787 | 31831 | 282 | 0.9% | |
| June 2000 | 10002 | 70525 | 37651 | 32874 | 1043 | 3.2% | |
| July 2000 | 10900 | 72682 | 40640 | 32042 | -832 | -2.6% | |
| August 2000 | 11945 | 74098 | 42622 | 31476 | -566 | -1.8% | |
| September 2000 | | | | | | | |
| October 2000 | | | | | | | |
| November 2000 | | | | | | | |
| December 2000 | | | | | | | |
| | | | | | | | |
NOTE. You can compare hostcount data for Russia for the same period.

---
The RIPE Region Hostcount is published monthly at http://www.ripe.net/ripencc/pub-services/stats/hostcount/

New extended RIPE Region Hostcount Statistics (Beta Version) - August 2000

Historical: Compiled Hostcount output data for .UA (of 03.1998)- Full list of .UA hosts (Warning! Very Big File!).
---
Copyright © 2000. Yuri Demchenko.